Home | Music | Words | Schedule | Media | Links | About | Contact
Welcome to Fate's Maze's Official Web Page
New single "Rise of a New Night" now available.
Available as a download from Broadjam.com. This is the first song and title track of Fate's Maze's upcoming CD. Featuring vocals from Tracey Cramer-Kelly and guitar from Scott Kirchoff.

Debut CD "Gothic Dreams" available from Amazon.com
Buy the CD or downloads from Amazon.com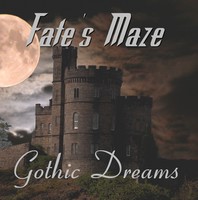 "Hard Rock with Veins of Metal and Darkness"



Feedback on the Gothic Dreams CD
------------------------------------------------------------------------------------------------------------------
"Wow!!!!!!!! Finally bought your CD and have been listening to it during my daily commute"...
"Really enjoyed listening to it! Certainly worthy of air play in any radio station market."

-- Chuck Latia (local musician)
------------------------------------------------------------------------------------------------------------------
"Gothic Dreams by Fate's Maze is an impressive musical production from start to finish."
"The music is clean, goes down smooth, and is full of amazing musical soundscapes that
come at you from every direction." "I really admire artists out there who are themselves
and just let the chips fall wherethey may. Praise goes out to the artist that can show us
something real and genuine beneath their veil of vanity."

-- Cyrus Rhodes (CD reviewer for www.IndieMusicDigest.com)
------------------------------------------------------------------------------------------------------------------
"The two Blue Oyster Cult covers, 'I Love The Night' and 'Nosferatu', fit the gothic and dark
theme very well"..."'Nosferatu' comes across better because the song's great piano sweeps give
Carlson ample room to show his fine skill on the keys."..."There is a certain primal catchiness
to tracks like'Thinking of You' and especially 'Find A Way'"..."it is a labor of love for Fate's
Maze and they have obviously put their hearts into it."

-- Mike Korn (Music Critic, interviewed artists such as Molly Hatchet and Blue Oyster Cult)
------------------------------------------------------------------------------------------------------------------

As the circle of light increases, so does the
circumference of darkness surrounding it.
-- Albert Einstein